Posted: 3rd January 2013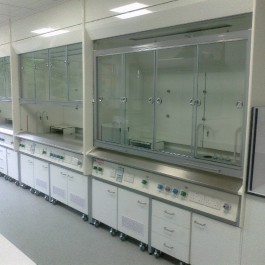 PF & F Ltd have just completed a major Fume Cupboard fit-out for Syngenta International Research Centre at Jellots Hill, Bracknell and have been awarded on-going work at the same site.
The 2nd phase of the project was placed in November, and PF & F were chosen not only because of their knowledge and experience for producing exceptional quality products, but more importantly for the customer support they had shown on Phase 1.
The customer's requirement was for the maximum internal work space to be provided on each Cupboard, and so PF & F's Exemplair (40) range was the natural choice.
Comprehensive Containment Tests of the Fume Cupboards were undertaken at PF & F's test facility along with full on site testing.These were carried out by Invent UK, ensuring that the fume cupboards comply with the highest standards and exceed the requirements of BS EN 14175.