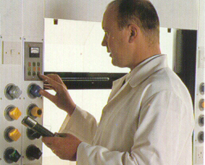 Established in 1976, PF&F UK Ltd was originally formed as manufacturers of plastic fans and extract systems, the company developed into one of the country's leading independent manufacturers of standard and bespoke fume cupboards, thereby offering clients a complete design, manufacture, installation and commissioning package for total fume extraction.
PF&F UK Ltd operates a quarterly management system procedure to ISO 9001, with the Operating Manual, coupled with all Procedures, being implemented at this time, and has a determination to produce consistent quality products. We also operate 'Investment in People'.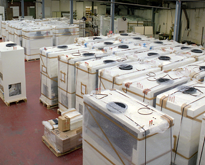 PF&F UK Ltd occupies a modern factory of approximately 18,000 square feet. Our skilled workforce offer Steel welding Fabrication, Plastics Fabrication, Fan Manufacture, Ducting Fabrication, Painting Facilities offering both powder coating and wet spraying, Electrical and Plumbing work, Installation, Commissioning and Testing, maintenance and servicing. Design Engineers and Production Managers each have many years of experience in air movement and metal and plastics manufacturing techniques. The original Managing Director of PF&F UK Ltd, founded in 1976, currently holds the position of Managing Director, and has over 40 years of experience in the manufacturing field.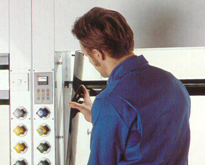 PF&F UK Ltd experienced design office personnel, utilizing our advanced Computer Assisted Design capability, are able to produce working drawings in a timely fashion for client approval prior to manufacture. Our contracts engineers establish a close working relationship with the client to ensure that the project specification and program is strictly adhered to.
The company offers a complete service, from design and manufacture, to installation, commissioning and maintenance / servicing, enabling it to exercise full supervisory control over every project.
The result is effective, reliable installations that meet the very highest standards of performance, quality and safety.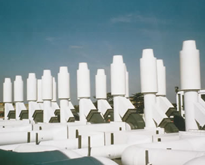 To compliment it's extensive range of standard equipment, PF&F prides itself on bespoke service providing specialist items to clients' specifications.
Customer satisfaction is PF&F UK Ltd key objective - reflected by the emphasis placed on quality at every level of the company.
PF&F UK Ltd test room facility is currently available to validate fume cupboards to BS EN 14175, and indeed, the containment indices achieved by independent testing are far in excess of the minimum requirements of BS EN 14175, and to this we feel that the fume cupboards currently being produced and installed by ourselves, are probably the best ever supplied in the United Kingdom.